Plane Tree House, Duchess of Bedford Walk, London:
An award winning block of 24 floor flats, including 2 penthouses overlooking Holland Park.
All flats have park view and large balconies. Covered parking on two levels is situated at the rear of the property. The building is constructed of cross-wall construction with the two internal blocks supported on concrete columns with a waffle slab.
External walls are antique sandfaced 50mm bricks and original windows polished Pine, now painted. The fascia is lead with stand-up seams.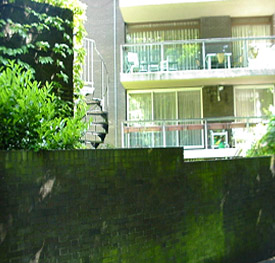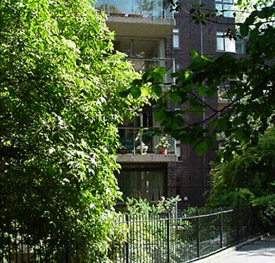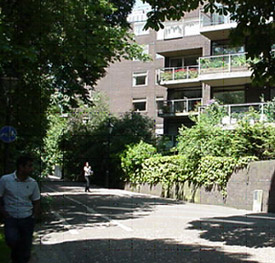 ---
House in High Wycombe, Buckinghamshire:
Dr and Mrs. Bartle asked us to design a substantial extension to their house in High Wycombe, Buckinghamshire, incorporating an indoor swimming pool, change room with shower, room for their children to do their homework and a room housing a full size snooker table.
The original house was built in the 1930's and in order not to interfere with the original design, the extension is attached to the house with a glazed link.
The pool is located overlooking a luxuriantly planted spinney.
The use of natural materials and colours link the pool enclosure with the landscape.
An interesting feature is the electronically operated pool cover which is housed on a reel at the bottom of the deep end.
The works were carried out on time and within budget.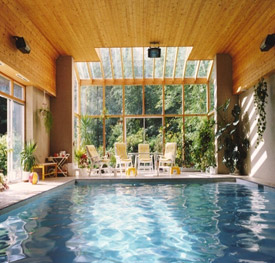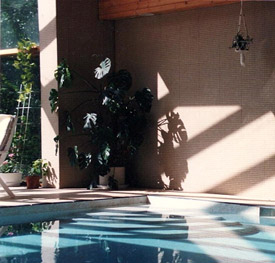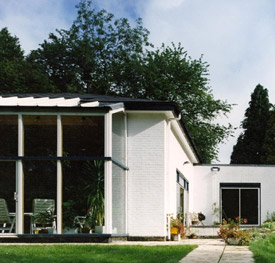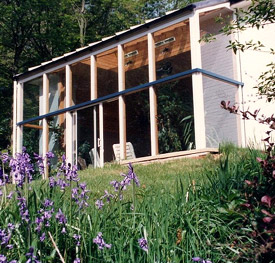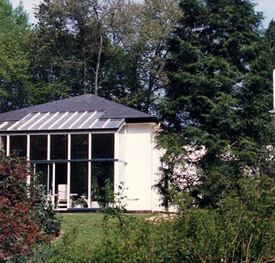 ---
Alterations and extension to a house in Radlett for Mr. and Mrs. Les. Joffe:
Extensive alterations to the interior of the ground and first floors. The ground floor was "opened up" to provide a generous dining/kitchen leading to a purpose designed conservatory with sliding folding doors to access a large timber deck facing the mature garden. This was a second appointment following alterations to a cottage in the previous family home in a nearby village.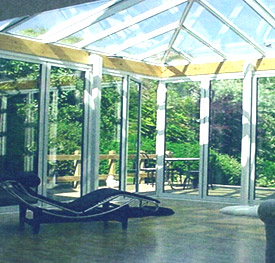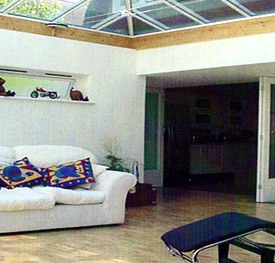 ---
Rear Extension in Hanwell, London W7:
Our client required our architectural services in connection with the design and construction of a single storey rear dining area extension and internal alterations to provide a new kitchen space, a new utility room and WC accessible off the entrance hall.
The new design will improve the quality of natural light to the new kitchen/dining area and provide a good view of the rear garden. Installation of sliding-folding doors provides easy access to the rear garden.
Our clients are delighted with alterations and extension of their home.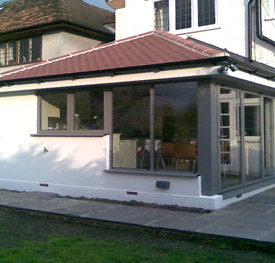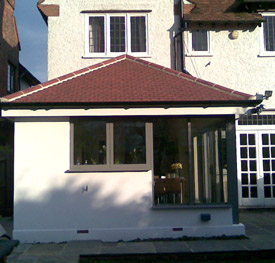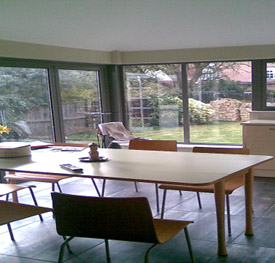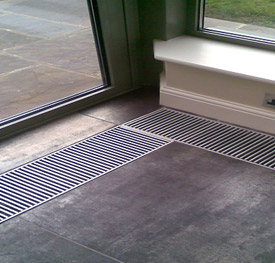 ---
House extension for a family home in Ealing:
The rear extension provides a dining room with a glazed roof affording natural light to the rear living room. The new dining room has fully glazed doors leading to a new upper terrace overlooking the garden.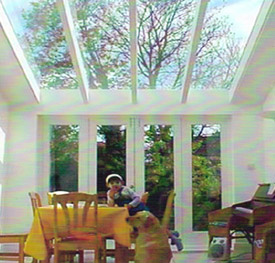 ---
House extension in Penn, Buckinghamshire for Mr. and Mrs. Andrew Barr:
The double storey side extension consists of new entrance hall and utility room. A first floor private office is accessed via a steel and glass spiral staircase, a sculptural feature in the entrance hall and expressed externally in the facade. The intention was to blend the extension into the modern house design.